How do CISOs with small security teams succeed in their juggling act of defending their company and making the best of their limited resources? We asked 10 CISOs with small security teams (up to 5 members) across all industries, to share their Must Do and Must Don't tips to succeed in their challenging environment.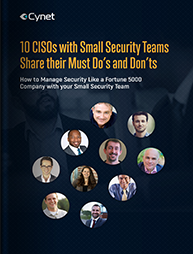 Best practices for communicating upstream, including presentation of security plans, budget and gaps
Parameters to test during a product evaluation to avoid unexpected associated costs
Questions to ask your vendors to set customer success and servicing expectations
Learn from your peers by downloading this e-book today.