Undoubtedly, post-COVID19 work dynamics will bring its own plethora of new security challenges. Small security teams that feel the brunt of security on a daily basis now need to one more item to their security strategy planning and execution.
This eBook details 5 security lessons that will help small security teams prepare for the new post-COVID19 work era.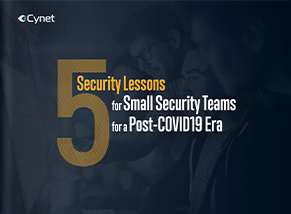 In this report we:
Cover top five post-COVID19 predictions by analyzing business, IT and threat landscape trends
Pinpoint challenges that small security teams face when responding to the predictions
Provide helpful and practical tips to overcome each of the new challenges
Refer to further resources to help small security teams in their strategy planning and execution
Apply these lessons already now by downloading the ebook today!