The ultimate checklist to ensure your boutique security team provides comprehensive protection against breaches.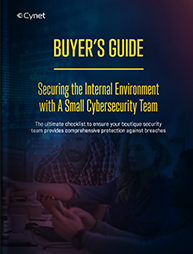 Visibility - Ensure you have the right tools to get complete visibility of your internal environment.
Coverage – get more capabilities natively integrated in your solution including NGAV, EDR, NTA, UEBA and more.
Automation – Find a solution that automates most of the detection, investigation and remediation processes to free time and facilitate compliance.
Deployment - Look for a solution that is fast to deploy, doesn't interfere with operations, and requires minimal effort and resources.
MDR Services – The three things to consider are scope, availability and costs.



Get a solution that lets you do more with less – download the buyer's guide to find out how.