eBook
Decided to move on from your NGAV/EDR? A Guide for Small Security Teams to What's Next

Like most small security teams, you've figured that the EPP/ EDR does not suit your needs any longer. All the blind spots, alert accuracy, manual processes and management aspects are creating a burden on your resource-constrained team.
The trending solution is to transition to an XDR. How do you make sure you won't enter again a lengthy implementation cycle and worse yet, to find out later that the solution created more work on your end?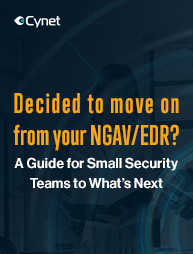 This ebook walks you through 6 steps
to help you easily transition to an XDR platform.
Cover the pros and cons of keeping the EPP/ EDR solution and adding compensating technologies versus transitioning to an XDR
How to build the business case and find the budget to ultimately provide you with more protection without increasing expenses
List out the various XDR capabilities and offerings so you can shortlist the vendors to those that best suit your environment
Refer to an already created RFP template for XDR protection and other resources geared towards small security teams to help reduce pre-implementation efforts

Remove unnecessary hurdles from your breach protection transition by downloading the ebook today!