Endpoint Detection and Response has provided critical protections to enterprises since its introduction in the early 2010s. A decade later, with newer security technologies now available, security executives may want to "audit" their EDR solution to find out if it's still the best alternative for their investment.

Read this eBook to learn: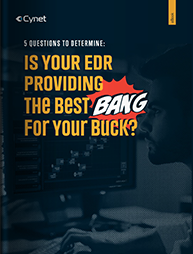 What are the 5 questions that can help you decide if your EDR solution is still providing the best return on investment?
Are there newer, comparably priced security technology alternatives to EDR?
How do newer XDR solutions improve upon EDR capabilities?