RFP Template
The Definitive RFP Template for EDR Projects
Launching a new endpoint detection and response (EDR) project is a large undertaking for any organization, and therefore one that requires care and attention. Finding the right vendor is crucial but evaluating and determining the right one is a tough task in a crowded market.

This new, definitive RFP template is designed to help you better evaluate your EDR vendors and understand what they actually offer your organization. Instead of simply looking at their marketing recymaterials, you should be able to send an RFP to gain real, valuable data on which is the right fit for you.
Watch XDR, Response Automation and 24X7 MDR in Action
Watch Demo
or schedule a live demo
By clicking submit I consent to the use of my personal data by Cynet in accordance with
Cynet's Privacy Policy
and by its partners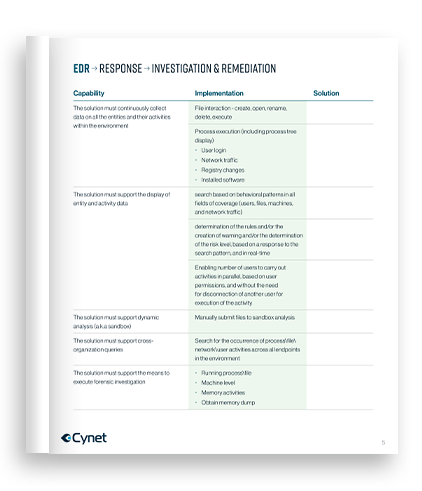 This RFP template:
Includes in-depth and clear mapping of key operational and security features and functions
Is based on the accumulated knowledge of a wealth of experienced and seasoned security professionals
Is designed specifically to help you evaluate EDR projects and vendors quickly and effectively
Download the RFP template now to start sending to your evaluated vendors.