PDF
The Practical Guide to the MITRE ATT&CK Evaluation
The MITRE ATT&CK evaulation is a yearly milestone for the cybersecurity industry, and the 2020 evaluation offered some fascinating insights. The ATT&CK evaluation's unique approach ignores comparative analysis in favor of a more actionable individual test which shows each vendor's capabilities to detect and respond to a variety of the most common attacks.
Watch XDR, Response Automation and 24X7 MDR in Action
Watch Demo
or schedule a live demo
By clicking submit I consent to the use of my personal data by Cynet in accordance with
Cynet's Privacy Policy
and by its partners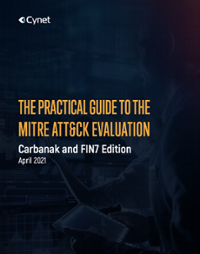 Cynet is proud to be a participant in the ATT&CK 2020 evaluation, and we are excited to share our results with the world. Some of the highlights of Cynet's evaluation include:
100% visibility and detection across all 20 MITRE attack steps

We detected 96% of the attack techniques used in the evaluation

We scored the highest in terms of data source utilization, with 15 unique data sources

We provided 100% detection and protection for Linux operating systems
Read more in our in-depth guide on Cynet's 2020 ATT&CK evaluations now!